Grantee Spotlight: Girls On The Run
Girls on the Run (GOTR) is an experiential learning program for girls age eight to thirteen years old (3rd-8th grade). Its mission is to inspire girls to be joyful, healthy and confident using a fun, experience-based curriculum that creatively integrates running.
WRWF granted Girls on the Run $9,940 in 2021 to help fund the cost of running two GOTR eight-week sessions for approximately sixty-five girls from three Blaine County schools. The program teaches life skills through dynamic, interactive lessons and running games. Each session culminates with girls being physically and emotionally prepared to complete a celebratory 5k running event, "Color Me Fearless."
Grantee Spotlight: Swiftsure Ranch Therapeutic Equestrian Center
Swiftsure Ranch Therapeutic Equestrian Center
Swiftsure Ranch Therapeutic Equestrian Center serves over 300 riders of all ages and backgrounds who experience physical, medical, cognitive, or emotional challenges. Its staff helps each participant set goals and record their progress as they meet new milestones to gain strength, confidence, and social skills, improving both mental and physical well-being through this interactive physical activity.
WRWF granted Swiftsure Ranch $15,664 in 2021 to fund the cost of replenishing the footing material in the main, indoor arena. This all-purpose material is a critical infrastructure requirement to ensure the safety of the horses, participants, and volunteers. With more than one hundred lessons each week year-round, replenishment is required every three to five years to prevent injuries both to riders and horses.
YMCA Power Scholars Program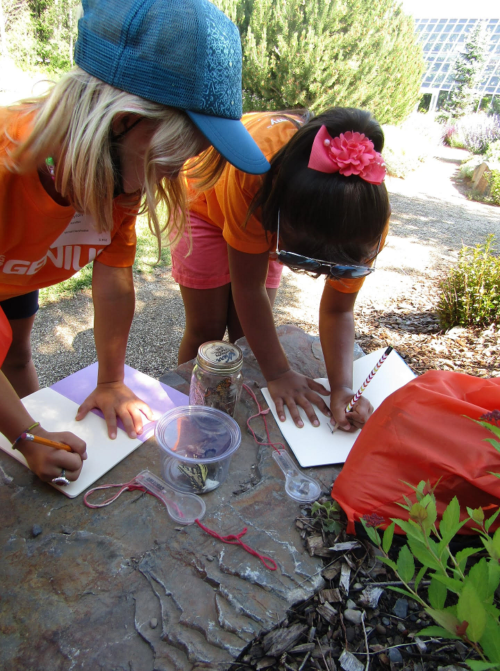 The YMCA Power Scholars have been hard at work learning everything there is to know about pollinators and are excited to show off their work! On Thursday, July 29th from 2:15 to 3:15 pm the group will hold a Project Exhibition in the cafeteria at Bellevue Elementary School. And on Friday, July 30th they will have a portfolio review at 9:15am followed by a graduation ceremony at 9:45am also at the school. Guests from the WRWF are welcome to join in the celebration. Masks will be worn indoors.
The Power Scholars Academy is a 5-week, 6 hours per day summer academic and enrichment program designed to address summer learning loss for first and second graders. This year the Wood River Women's Foundation granted $25,000 of the $146,460 needed for this important program.
Board of Directors Update
Louisa Moats
After six years of service to WRWF, Louisa Moats has wrapped up her two terms as a Board member. Louisa's contributions include serving as News Brief Editor, Chair of the Education Committee and, most recently, leading the effort on Focus Grant 2022. Her professional career in the education field has benefitted WRWF immensely and we are fortunate that she will continue to serve on the FG2022 committee in a leadership role, bringing to bear her skills and experience in education. Louisa's commitment to WRWF and the Wood River Valley continues to impress – thank you for generously sharing your skills, talents and compassion with WRWF!
Jill Grossman
Welcome to our newest Board member, Jill Grossman! Jill and her family have been enjoying the Wood River Valley since the mid-1980s. A 25-year veteran of tech marketing and communication, she transitioned to the nonprofit world and in 2015, founded Graybird Foundation, a boutique nonprofit that provides marketing and communication services to nonprofits. When Jill joined WRWF in 2020, she rolled up her sleeves and got right to work. When her term starts on September 1, she will become Chair of the Communications Committee overseeing the News Brief, Social Media, website and more.
Sandy McCullough
After four years on the Board, three as Communications Chair in addition to serving the past 8 months as Interim Secretary, Sandy is moving into the permanent role of Secretary for her remaining two years. During her tenure leading our Communications team, WRWF's website was updated and remains robust, News Brief was redesigned both visually and in content, corporate sponsorships were secured, and transparency has improved. Effectively communicating with 300+ members is an ever-evolving process; Sandy is excited to pass the baton to Jill whose experience and expertise will continue to enhance WRWF outreach efforts.
Secure Your Spot at WRWF's Annual Meeting
at Trail Creek!

Annual Meeting at Trail Creek in 2019
Join us for the Wood River Women's Foundation 2021 Annual Meeting and Celebration of Grantees on August 4 under the tent at Trail Creek! While returning to our yearly luncheon is an occasion for celebration in and of itself, we particularly look forward to honoring the 2021 grantees in person. This year's "Hats Off!" theme is a tribute to the impressive work our non-profit partners have accomplished despite operating through a pandemic.
Featured Grantee Speaker: Teresa Beahen Lipman, Executive Director, The Senior Connection
"Hats Off!"
Annual Meeting and Celebration of 2021 Grantees
Wednesday, August 4, 2021
Reception at 11:00 AM; Luncheon at 12:00 PM
Trail Creek Cabin, Sun Valley Resort
Special notes for 2021:
Given our national membership, we will be following CDC guidelines: vaccinated adults may be mask-free outdoors; if you are unvaccinated, please wear a mask if social distancing is not possible. We will abide by whatever the revised guidelines may be in August.
Due to staffing constraints, Sun Valley Company is limiting our event to 200 people. Members have priority until July 28 when any remaining seats will become available to guests of members.
Event cost is $60 per person by check and $62 by credit card (to cover the processing fee charged to WRWF).
Your payment will be your confirmation of in-person attendance. Please submit your online payment here, or by check early to ensure your place.
Even if you are not able to attend, all members have received the information necessary to vote on the Annual Meeting components of the luncheon, including the slate of officers, board terms, financials and more. Please be sure to cast your vote!
"Hats Off!" to all who have persevered through the past challenging year to continue delivering on the WRWF mission! We hope you'll be joining the festivities. There is much to celebrate!
Focus Grant 2022 (FG 2022) Update
WRWF is excited to announce that Louisa Moats and Laura Midgley will co-chair our newly formed FG22 Committee. While many of the details of the committee are still coming together, the new co-chairs have been hard at work defining the application requirements and developing the grant award processes. A Special Members Information Session will be held on August 25th at 4:00pm at the Hailey Public Library, followed by a Meet and Mingle. All are welcome to join the conversation.
FG22 addresses the Opportunity Gap in Education. A grant of up to $200,000 over a two-year period will be awarded to the local nonprofit whose proposed program best addresses this critical issue. In addition to the FG22 pilot, WRWF's strategy is to continue to provide Pooled Grants for our beloved Wood River Valley nonprofits.
You can find more information about the Focus Grant, by reading our press release, FAQ, and stories in the Idaho Mt. Express and Eye on Sun Valley. (Hot links below). Please send any additional questions to wrwcf1@gmail.com.
The Advocates – Coloring Our World
Ketchum's Memory Park awash with color (photo courtesy of Karen Bossick)
The Advocates recently sponsored "Color Our World," a fundraising event for its twenty-four-hour Helpline and crisis shelter, sexual assault services, support groups, money management and jobs program, legal services, transitional housing and bystander intervention program. WRWF, a proud supporter of The Advocates, granted the nonprofit $25,000 in 2020, and $35,000 in 2019 for its Safe Housing First project. Read Eye on Sun Valley's story about The Advocates here.
Terri LeFaivre and Julie Meinke enjoy nibbles prepared by Chef Adam Fisher and donated by Sun Valley Resort. The June event drew 40 members and several guests. Thank you Sun Valley Company!
July 22, Thursday: Meet & Mingle, The Senior Connection, 4pm. RSVP to wrwcf1@gmail.com
July 27, Tuesday: WRWF Future Forward Coffee Talk, 10:30am-11:30am. Ketchum Town Square.
July 28, Wednesday: Remaining seats for the Annual Meeting open up to guests of members
July 29, Power Scholars Project Exhibition, Bellevue Elementary School, 2:15pm – 3:15pm
July 30, Power Scholars Graduation Ceremony, Bellevue Elementary School, 9:15am Portfolio Review, 9:45am Graduation
August 4, Annual Meeting & 2021 Grantee Celebration, Register online here. Trail Creek Tent, 11am
August 25, Focus Grant 2022 Member Education Event, Hailey Library, Time TBD
Member Engagement Questionnaire Coming Soon!
On August 5, WRWF members will be sent a link inviting everyone to complete our new Member Engagement Questionnaire. As a largely volunteer-powered organization, we rely on our members to lead and operate the foundation. This new tool outlines the various opportunities, and asks how your skills, interest and availability might strengthen WRWF. While members are not required to participate beyond making their annual contribution, we strongly encourage, enthusiastically welcome, and greatly appreciate members who support WRWF as active volunteers. Many thanks to the team that has been working to bring this new engagement tool to our membership!
Long-time WRWF members were saddened by the news of the recent passing of one of our founding members, Debby Law. Debby believed in the power of women coming together to foster change in the community. She embraced the idea of collective giving and was instrumental in creating WRWF as well as taking on leadership roles to ensure its sustainability. There are now more than 300 of us carrying on the work she helped initiate and inspire!
Debby's daughter Carrie Grant shared with us that her mom was passionate about the work WRWF was doing. "She felt strongly about the struggles of lower income families in the Wood River Valley and was moved by her experiences. WRWF was a huge part of her world for many years!"
WRWF member Sandra Flattery's husband, John, was a college ski buddy of Debby's in Vermont. "We saw each other at Lookout signing up for the Masters Ski program 20 years ago and renewed our friendship. We will miss her beautiful smile and her kind heart."
We, too, will miss her compassion and commitment to Blaine County and send sympathy to all our members who knew Debby and worked with her to create WRWF.
In honor of Debby's faith in WRWF, her family has requested that memorial donations be sent to the Wood River Women's Foundation in her name. A memorial service will be held at 2 Lane Ranch Road West, Sun Valley, on Aug. 16 at 4:00 p.m. Condolence cards and notes may be sent to Bob Law, The Terraces of Boise, G101, 5301 East Warm Springs, Boise, ID 83716.
A Warm Welcome to New WRWF Members
New members of the WRWF are invited to provide photos and a bit of information about themselves to share in the News Brief. We are delighted to welcome all new members whether they elect to participate or not. A warm WRWF welcome to all who joined this month!
Peggy Walker Thompkins and her husband purchased a home in Sun Valley two and a half years ago. Originally from the San Francisco Bay Area, they now divide their time between Idaho and Indian Wells, California.
Prior to retirement, Peggy was an associate editor, writing instructor, and freelance writer and editor. After settling in her Sun Valley home, she set about finding ways to connect with the community. When friends told her about the Wood River Women's Foundation, Peggy joined. She is thrilled to be a member of our organization.
A Big Welcome to These New Members!
Aneta Fosburg – Ketchum
Becky Lopez – Hailey
Anna Majernikova – Ketchum
Eileen Raney – Sun Valley
Melissa Rivelo – Ketchum
Allison Scherer – Sun Valley
New and renewing members of the WRWF may now use our convenient online form to complete the membership process. Simply click on this link and fill out the form. You may submit your payment by credit card or check. If paying by check, make payable to the Wood River Women's Foundation and mail to: WRWF, P.O. Box 3686, Ketchum, Idaho, 83340.
WRWF President's Closing Message
WRWF President, Terri Bullock
In just a few short weeks we will be back under the tent at Trail Creek for our Annual Meeting and Celebration of 2021 Grantees. I am so excited to see all of you who be attending and will be appreciating the spirit of those of you who cannot join in person.
Being together to celebrate our nonprofit partners and our collective work will be such a huge reward after the challenging past year and a half. The Board of Directors met in person this month for the first time since March 10, 2020; if that reunion was an indicator of the joy and appreciation for being back together, we are in for an afternoon of serious festivities on August 4!
One of the many causes for celebration is the fact that despite the obstacles thrown at WRWF during the pandemic, our work flourished. We succeeded in pivoting to deliver on our grants schedule, meeting the flexibility needs of our grants partners, learning new processes, developing the new Focus Grant initiative, creating a new membership category for younger women to ensure a sustainable membership and pipeline for future leaders, lining up the final pieces of our Strategic Plan, recruiting talented and skilled new board members, and much more. We kept our arms around each other via Zoom and managed to maintain our sense of humor.
I hope the connectivity challenges brought on by COVID-19 are behind us but if not, we know we are strong, capable and committed to carrying out the WRWF mission despite extraordinary circumstances. My sincerest gratitude to each and every one of you who participated in carrying out our 2020 work.
In addition to being a review of our past year's work, our Annual Meeting is the launching pad for our next year. With a lot of difficulty behind us, I am thoroughly optimistic about the exciting opportunities that are ahead for WRWF and our members in 2022! Thank you to all who have remained committed to our collective philanthropic journey and to supporting positive change in Blaine County. With 2020 and most of 2021 behind us, let's have some fun delivering on our mission in 2022!
Until next month,
Terri Bullock
Many thanks to members who have designated WRWF as their selected charity on AmazonSmile! To link Wood River Women's Foundation AmazonSmile to your Amazon account, click here and get signed up. Then, whenever you shop Amazon, use the AmazonSmile website.