Welcome to the Voting Season!
In less than two weeks, the 2021 WRWF Grants Ballot will be emailed to members. Ballots will be sent via email on March 3 to members, who will have until March 26 to complete voting. Between now and then, members will receive important information to help educate themselves about the choices both for the 2021 pooled grants and the area of need for the new Focus Grant 2022.
Every applicant on our ballot has been thoroughly reviewed, vetted and advanced by dozens of members of the Grants Committee. Given social distancing requirements, we will not have our usual live presentation by the Executive Directors of the nonprofit finalists. Instead, presentations will be presented live on Zoom on March 3.
This year's ballot will include another voting opportunity. On Part B of the ballot, you will be asked to rank three areas of need for our new Focus Grant 2022. The area of need that receives the highest ranking will become the focus or "theme" of this new grant initiative. Applications for Focus Grant 2022 will be solicited in the fall of 2021, and voting will be a part of the 2022 ballot. The three areas of need for ranking are (in no particular order):
Closing the Opportunity Gap in Education
Bolstering Mental Health Assistance and Addiction Prevention Programs
Building an Inclusive and Equitable Community
Here are a few places to visit for additional information on the Focus Grant 2022:
Visit the new Focus Grant 2022 page on the WRWF website for details about the options.
Visit the FAQ's tab on the WRWF website for answers to your questions about the Focus Grant 2022.
Click here to view Louisa Moats's informative video about the Focus Grant 2022.
Please keep checking the Calendar of Events found on the WRWF website for new and important information.
To the many members who have volunteered their time to bring this ballot to our membership—THANK YOU! Your commitment ensures WRWF continues to support the many needs in Blaine County.
Focus Grant 2022 Task Force
Over the past two years, our Grants Committee leadership and dozens of team members have taken a deep dive into evaluating our grant making process. Their work included collecting and discussing member input, researching best-practices for collective giving, examining funding impacts, identifying community needs and more.
In large part these efforts were initiated by results from WRWF's most recent member survey conducted in 2018, where members made a few things clear:
78% support the idea of multi-year grants
60% support large scale grants (more than $50,000)
80% support or are open to the idea of making grants to fund a pressing community need
87% support sustainability grants
One of the resulting policy changes proposed by the team and approved by the Board, combines these elements into one new initiative: a multi-year, large scale grant that will focus on an area of pressing community need.
Beginning in the 2022 grant cycle, WRWF will offer one issue-based, two-year grant of $200,000. Investing $100,000 per year for two years in an area of acute and persistent need in Blaine County will, as we've been saying for so long, "move the needle" at a level we have yet to achieve. This is an exciting new opportunity for WRWF.
A Task Force was formed to (1) study potential areas of focus for this grant, and (2) recommend an implementation process to include a vote of the membership on both the area of focus as well as the final grant award. The Task Force has completed this phase of their work and is ready to bring the first vote–the selection of an area of focus–to the WRWF membership.
The Focus Grant Task Force was chaired by Louisa Moats, Board Member and Education Committee Chair, and included Trinka Dyer, Laura Midgely, Susan Passovoy, Kit Wright, and Lillian Wu.
When they join, new members are invited to provide a photo and a bit of information about themselves to share in the WRWF News Brief. We are delighted to welcome all new members whether they elect to participate or not. A warm WRWF welcome to all who joined this month!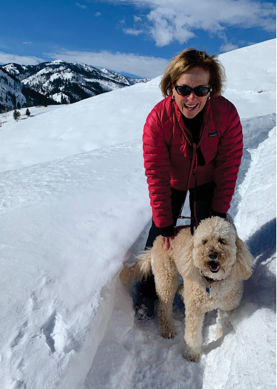 Elli Bernacchi has been coming to Sun Valley for nearly thirty years, splitting her time equally between the Wood River Valley and the Bay Area of California where she was born and raised. Until moving to Sun Valley full time this year, Elli spent the past fifty-plus years in Los Altos, raising a family. While there, she also taught first grade for four years and then was an Art Docent and art teacher in the elementary grades for fifteen years. Elli started her own business as a graphic designer of fine stationery from which she has been "almost" retired for ten years. She looks forward to getting to know and work with other women serving this amazing community.
Carla Cote has been a resident of the Wood River Valley for four years. Carla feels honored to be a part of this organization of amazing local women and looks forward to making a meaningful contribution.
Carla has been fortunate to have many careers, but the job she's loved most is being mom to her daughter. She is passionate about inspiration, uplifting, and the well-being of mind, body, and spirit for all. Carla enjoys the beauty in this world, laughter, good timing, lifting heavy barbells, cooking and eating savory foods, and exercising in nature with her family and Labrador retriever.
Dianne Tibbs Johnson moved from Seattle to the Wood River Valley in December 2020. Kit Wright introduced her to the WRWF. Dianne works as a paralegal for a boutique law firm specializing in intellectual property. She is passionate about fly fishing, but may also be found skiing, hiking, and upland bird hunting with her two German Shorthair Pointers, Iris and Stanley.
Linda Segre is new to the Wood River Valley. She and her partner, Robert Shepler, are semi-retired and wanted to be in a place with great skiing, hiking, and an excellent golf course, so they immediately fell in love with the Sun Valley area. They recently moved into their newly built dream home at the Valley Club. Trinka Dyer, a golfing buddy, invited her to join the WRWF.
Linda's background is mostly centered in corporate strategy, but she has also worked in philanthropy. Her philanthropic passions are K-12 education and disadvantaged children/youth as well as environmental sustainability.
Franny Wood has been visiting Sun Valley with her family as often and for as long as she can. In June of 2020, she finally got the courage to quit her job and move her life to the happiest place on earth. One of the only things that Franny felt was missing was a sense of purpose within and a connection to the community. Luckily, she has found that here with the Wood River Women's Foundation, thanks to her boss, who gifted year-long memberships to Franny and a co-worker. She couldn't be more grateful and excited to be a part of this amazing organization. Outside of her work, Franny spends her time skiing, hiking, and camping with her boyfriend and her dog, Dave.
Sophia Yen move from Seattle to the Wood River Valley in May of 2019. She is excited to be celebrating her one year and nine-month anniversary in this amazing place. Sophia was introduced to the WRWF by Summer Bauer.
Sophia is Vice President of Development at Noble House Hotels and Resorts, where she is responsible for overseeing fixed asset additions and renovations from permitting, design, construction, to furniture install. When not working, Sophia may be found skiing, hiking, and biking.
We also send a warm welcome to the following new members:
Kimberly Havens – Hailey
Heather LaMonica Deckard – Bellevue
Sara Lichtenberg – Sun Valley
Escape to the Garden by Anne Jeffery
Congratulations are in order for WRWF's Anne Jeffery. Anne's exquisite photographic montage recently earned second place honors in the juried "Every Color Has a Story—A Virtual Show" sponsored by the Flager County Art League in Palm Coast, Florida. The montage also won second place in the Cary Photographic Artists 13th Annual Open Juried Exhibit in North Carolina. Anne is a member of the WRWF Communications Committee.
Read Eye on Sun Valley's story about Anne's recent artistic achievements here.
WRWF President's Closing Message
WRWF President, Terri Bullock
Here we are, in our fifteenth round of reviewing and voting on grant applications from nonprofits in Blaine County, whose work is elevating the lives of our neighbors who need it most. Every day, they are building hope by addressing critical community needs, and, especially during COVID-19, developing innovative approaches to persistent problems.
My fellow members, each and every one of us has the privilege of helping to decide where WRWF grant dollars are spent. This year, we will award more than $285,000 from our pooled funds to very deserving nonprofits. As we know, with privilege comes responsibility. It is up to each of us to become informed philanthropists by doing our part in understanding the issues brought forth in these grants, and to vote with both our heads and our hearts.
Please make your voice heard and your vote count. Here is an informational timeline for this year's ballot:
Feb. 26: Check your email for ballot summaries, ballot worksheet and summaries of the three areas of need for our new Focus Grant 2022.
March 3: Tune in to the Zoom presentations of the nonprofits seeking our funding.
March 3: Following the Zoom presentations, your ballot will arrive by email. This will be a SurveyMonkey ballot as in past years. If necessary, please check your junk mail to ensure you receive your ballot.
Check the website often for information updates and additions.
In addition to voting on this year's grant applications, this ballot will ask you to rank the three options for our new Focus Grant 2022. The resulting top-ranked option will be the focus of our new grant in next year's cycle. There is a new page on our website dedicated to providing you with information about the new Focus Grant 2022. Learn about the formation of this initiative, the work of the Task Force, and the engagement with the community that took place in order to bring this to the membership for your vote.
In short, the three areas are:
Bolstering Mental Health Assistance and Addiction Prevention Programs
Closing the Opportunity Gap in Education
Building an Inclusive and Equitable Community
The WRWF grants vote is our defining act each year. I encourage everyone to take the time to understand what is being requested of our grant dollars, and to vote with both passion and knowledge.
Until next month,
Terri Bullock
Many thanks to members who have designated WRWF as their selected charity on AmazonSmile! To link Wood River Women's Foundation AmazonSmile to your Amazon account, click here and get signed up. Then, whenever you shop Amazon, use the AmazonSmile website.